For customers using our Premium cellular voice SIM cards
Contact UNREAL Mobile customer service to request your phone number transfer details, including your account number and PIN (also known as Account Password, in regards to phone number transfers).
Click here to see each method of contacting us, including phone, email and chat. We're available 7 days a week.
For customers using our older, Standard SIM cards
First, to get the information needed to transfer your number to another carrier, including your account number, PIN number, and the full first and last name on the account, go to my.unrealmobile.com (Please click this link).
Next, you will log in.
After you are logged in, then click on Settings. (upper right-hand corner of account).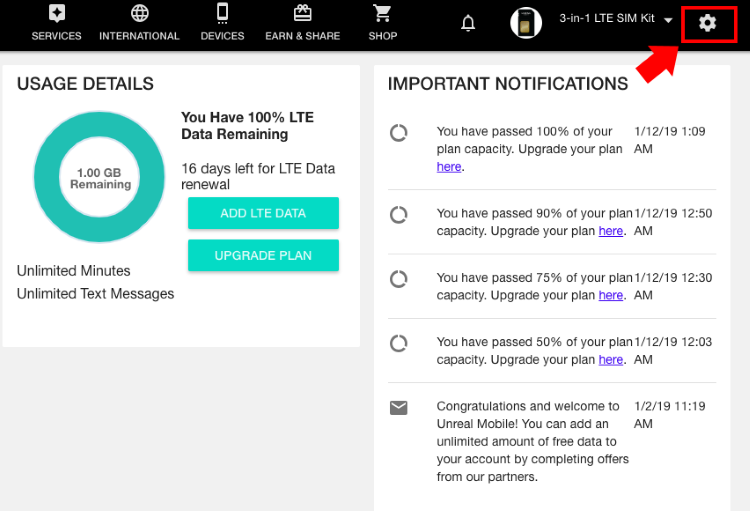 Then, tap on the Port Out Info section.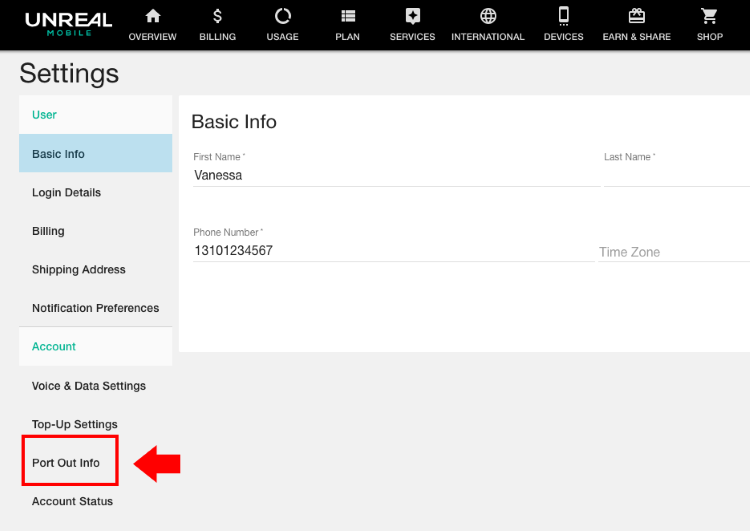 All of your necessary port out info will be displayed once you click Port Out Info.
Your UNREAL Mobile account must remain active for the port to work. You can now take this account and PIN number to your new carrier. They will help you pull the phone number from UNREAL Mobile, over to their service.
Please Note!
It can take 3 to 5 business days for the port out to complete. Make sure to contact us again after your port-out is complete, to have the account deactivated. Or you cancel your service yourself, online. Click here to learn how.
Your Port Out Status
When you request your port out information, the status will be "GENERATED".
Once the port out is received and accepted, the status will reflect "PROCESSING" until it completes.
If the information you submit to your new carrier is rejected, your status will reflect "REJECTED".
If your status never changes, make sure to refresh the porting out the information page. Simply click the refresh button on your browser.
My port is not working
Having problems with your porting request? Click here for assistance.