For customers using our Premium cellular voice SIM cards
Add on services are not yet available on the new Premium SIM platform, but this may change in the future.
For customers using our older, Standard SIM cards
How to add a service
To sign up for a new service, login at my.unrealmobile.com and click on the "Services" tab, from the navigation bar at the top of the page.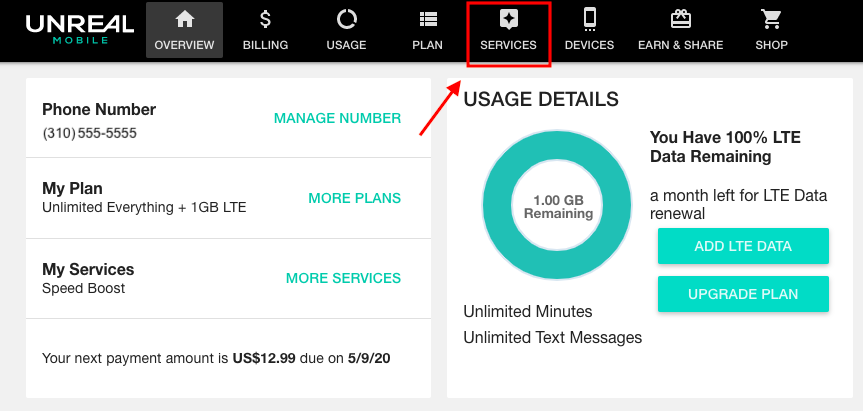 Click the service you are interested in and confirm activation.
You will incur a charge for the service right away. When your billing cycle renews, your service will renew as well. You'll incur an automatic renewal charge for your added services on the same day you incur the charge for your talk, text, and data plan.
How to remove a service
To remove a service from your UNREAL Mobile account, log in at my.unrealmobile.com and click on Services.
Click on the service that you'd like to remove, and then, in the bottom right corner of the service's description, click the link that says "To deactivate, click here."

The service will be removed from your account and you will not incur a charge for that service when your billing cycle renews. However, the functionality of the service will still be available for you to use, until the end of your billing current billing cycle.
If you need help with your services or account, feel free to get in touch with us! We're here to help. Click here to learn how to contact us.