This information applies to Premium SIMs
Check Balances
You can check your account balances by logging into your online account at https://www.unrealmobile.com/my-lines. Click your phone line to reveal account balances.
To check your high speed LTE account balance by phone, text Bal or Balance to 3888.
Refill Your Account / Make A Payment
When you refill your account you add minutes, text messages or LTE data credits so that you may continue using the service.
You may add these credits to your account in the middle of your billing cycle, as-needed, or you can upgrade your plan when you reach the end of your billing cycle.
To learn more about making a payment (i.e. refilling your account at the end of your billing cycle / paying for your talk, text and data plan) read this!
Add Minutes, Texts or Data Credits
To add credits as needed, log into your account at https://www.unrealmobile.com/my-lines and click on your phone line. Scroll down, until you see My Wireless.
Then, click the appropriate "Add More" button to add credits to your account.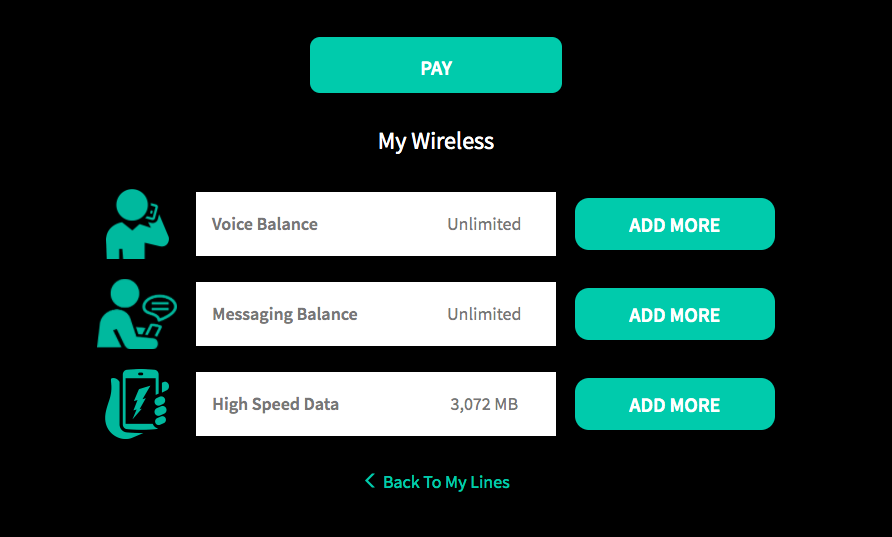 Refill your account by phone
If you purchased a plan and received a Refill Pin, you can add that plan to your account, by phone or by logging in online.
To add a Refill by phone, from your UNREAL Mobile phone dial *111* (refill pin 15 digits)# add the pound sign after the refill pin then press the call button.
To add a Refill in your online account, log into https://www.unrealmobile.com/my-lines and click your phone line. Then, scroll down and enter the plan's refill pin into the field.
This information applies to older, Standard SIMs
Check your account balances by going to https://my.unrealmobile.com/. On the overview page, you'll see your remaining minutes, text messages and data as well as your billing cycle end date.
You can also see your balances using the UNREAL Mobile application.
Refill your account / make a payment
Your account will automatically renew when your billing cycle ends. Charges for your calling, texting and data plan will be process automatically to the payment method used when you signed up. Click here to learn more about how payments work.
Add data
You can add LTE data to your account on an as needed basis. Click here for more information.