This information applies to customers using one of our Premium SIM cards
If you order an iPhone, get your tracking number by logging into your account at unrealmobile.com/my-lines and then click on Order History.
You can enter the tracking number you see there into the USPS website's tracking feature.
This information applies to customers using one of our older, Standard SIMs.
You'll receive a tracking number when your order ships
After you place an order, you will receive an email with your order receipt and your account password. You can log in to my.unrealmobile.com with your email address and the password that was sent to you.
Once you log in, on the home page of your account, you will see a shipping alert, and you will also be able to see the tracking number for your delivery.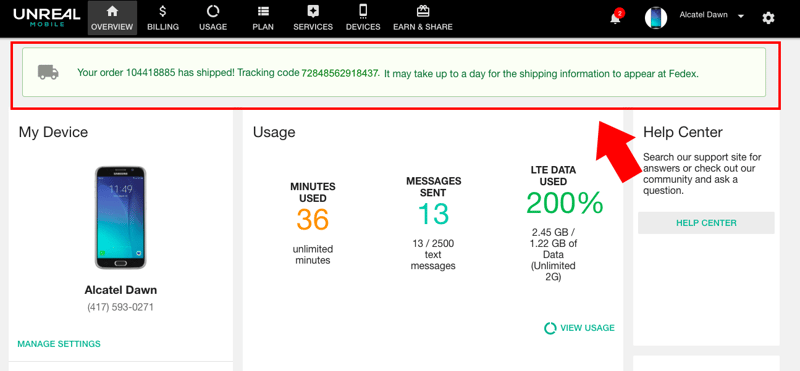 How packages are shipped
Our products are shipped using FedEx Smartpost. To track your shipment, visit the FedEx website and enter the tracking number that appears in your account. With FedEx Smartpost, your package is delivered - by FedEx - to your local post office. Then, USPS will deliver your device to your door.
You will also receive an email when your order ships, that will include your tracking number.
I haven't received my shipment yet
It takes 7 to 10 business days for delivery. This does not include weekends or holidays. If your package is taking longer, there may be a backorder or some other problem that is delaying your delivery.
Please speak with us. Click on the SUBMIT A TICKET button at the top of the page, to send us an email. Provide us your order number or email address, and we can check the status of your shipment.