For customers using our Premium cellular voice service
Make sure your phone is running operating systems 13.3 or better. Click here if you need help updating your phone's software. Finally, iMessage and FaceTime are features available for iPhone. They are unavailable on Android.
Enable iMessage and FaceTime
Make sure iMessage and FaceTime are both turned ON and enabled. To do this, go back into the phone's Settings. If you're still in the section for software updates, tap on the back button that is in the top left corner of the screen until you're back on the main Settings page.
From the main settings page, scroll down until you see Messages. Tap on Messages.
From here, toggle the button next to iMessage from off to on.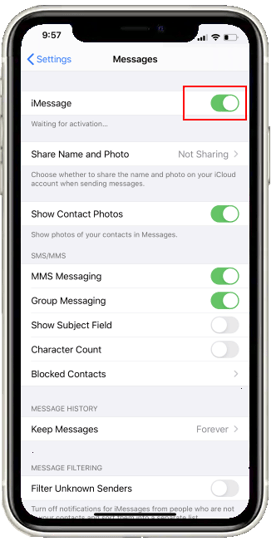 Wait for iMessage to finish activation. Your phone number and/or iCloud email address will appear when the activation is complete.
This time look for FaceTime.
Once again, tap the toggle button to enable FaceTime.
For further troubleshooting tips on enabling these services on your device visit https://support.apple.com/en-us/ht201422.
After enabling each of these features, return to your phone's home screen and tap on the green Messages icon to begin sending iMessages. Look for the FaceTime icon on your phone's home screen to begin making FaceTime video calls.