What problem are you having?
This article will help you, if you are having problems with calling, texting or browsing the internet and downloading applications.
If you are instead having a problem with your phone's hardware, or there is some other issue please reach out to our support team by clicking the SUBMIT A TICKET button at the top of the page.
Below are examples of issues related to the device's hardware, or otherwise not covered in this article:

• Bluetooth doesn't work
• Unable to tether data
• The phone keeps rebooting
• The phone won't turn on
• Parts of the touchscreen don't work
• etc.
First, make sure data works
It's very important that you have a working data connection. If you're not sure data works, try to open the Play Store. You can also try pulling up a website on your phone.
Getting a "No Connection" error message? Does the web page refuse to load, or load but without pulling up any images or content? This means your data connection isn't working. You'll need to check your coverage for signal strength, update Google Play Services and complete a carrier reset. Complete the following steps.
Checking Your Coverage
Visit unrealmobile.com/coverage and input your physical address, to see if you have strong enough coverage in your area. If you are still not sure, reach out to one of our representatives by clicking the SUBMIT A TICKET button at the top of the page.
Update Google Play Services
For this, you will need a separate WiFi network connection. Once you are connected to WiFi, open any web browser and do a Google search for the phrase "Google Play Services".
The top search result will be a set of apps, and the first one will be the Google Play Services app. Tap on it, and it will redirect you to the Play Store where you should see the UPDATE button.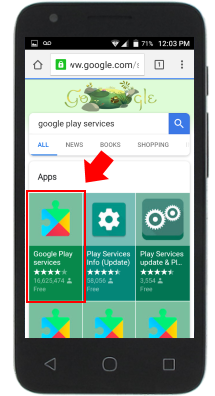 Tap on the UPDATE button and wait for the update to install. If you instead see only the DEACTIVATE button, this means your Play Services are already updated.
Open the UNREAL Mobile application
While you are still on your WiFi network, open the UNREAL mobile application. This will allow your phone complete setup, by syncing your phone with your UNREAL Mobile account. If you purchased your device from us, you should already have this app on your phone. If you instead activated your own device via the BYOP process, you will have to download this application.
To locate the pre-installed application on your phone, search through your all apps folder to find it.
To download the UNREAL Mobile application, open the Play Store and search for "UNREAL Mobile." Tap INSTALL to download it.
Tap on the application to open it (or, if you had to download the UNREAL Mobile application, tap the OPEN button once the download is complete).
Once the application is open, pay attention to the notification bar at the top of your device. You should see a checkmark appear that tells you your UNREAL Mobile phone is setup. If you swipe down from the top of your phone, the notification will say "UNREAL Setup Complete".
Complete a Carrier Reset
After you have updated Google Play services, and opened the UNREAL Mobile application, you'll need to complete a carrier reset. This will re-provision your phone onto the Sprint network. It will not remove any data (like photos, music or bookmarks) but it's always a good idea to back up the phone anyway.
Step 1: Connect your device to an available WiFi network. This is very important. If you do not have a WiFi network available to you (for example, in your home), consider using the free WiFi network provided by a local library or coffee shop.
Step 2: There is a dial pad inside of your UNREAL Mobile application, however, you will not use it for the Carrier Reset. Instead, you must use the native phone application that comes with all smartphone devices.
Step 3: Go to the device's home screen and tap your phone's native dialer
Step 4: Dial ##72786# or ##SCRTN#.If your phone is a Nexus, dial *#*#72786#*#*
After you complete your carrier reset, make sure to turn your phone completely off by holding down the power button, then turn it back on again.
Once the carrier reset is complete, turn WiFi off and rely on the data connection provided by UNREAL Mobile. Test your data connection. You should now see the LTE or the 3G icon in the notification bar at the top of your phone.
PLEASE NOTE! Make sure Mobile Data is turned ON. Without this, your phone is not going to pull from your UNREAL Mobile plan. It will look for another source of the internet like Wi-Fi. To enable mobile data:
Step 1: Locate the Settings application.
Step 2: Tap on "Mobile Networks"
If you don't see it, you may have to tap on More first.
Please Note: On newer Samsung phones, you'll have to tap on Settings, then Connections, then Data Usage.
Step 3: Tap on the Mobile Data switch to turn it ON
Are you throttled?
If you have used all of your Unlimited Data, you may find that your speeds are running more slowly. This is not a defect and your device doesn't need troubleshooting. We offer unlimited data plans with LTE allotments. After your LTE data is used, you will still have access to the internet, but at slower speeds. Please click here to learn more about our plans. If you'd like to add more high-speed data to your account, click here to learn how.
Check your account
Log in at my.unrealmobile.com and check your account for billing suspensions or failed charges. If your account is suspended, you'll need to update your payment information and allow any failed charges to go through. Click here to learn how to update your payment information.
If the problem continues
If you are still having problems with calling, texting or accessing the internet on your phone, please speak with an UNREAL Mobile support representative. Click here to learn how to get in touch with us.